Discover how our small architecture firm is making a big impact on transportation in NM. With a passion for innovative design and sustainable solutions, we specialize in creating transportation projects that seamlessly blend functionality and aesthetics. With an unwavering dedication to sustainability, efficiency, and user-centric design, we're shaping the future of transportation one project at a time.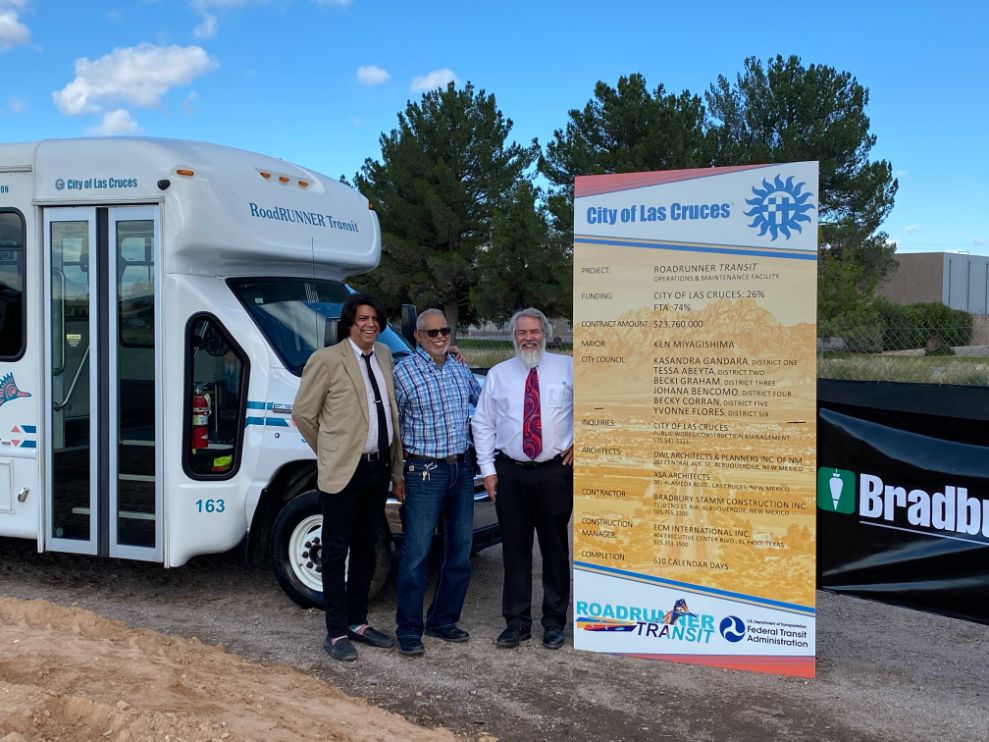 City of Las Cruces RoadRUNNER Transit Maintenance & Operations Facility
Anticipated LEED Silver Certification
DWL|NM updated the 24-acre Site Master Plan for the City of Las Cruces Facilities Complex. The design team has completed construction documents for facilities serving 13 acres. Phase I includes an 18,627 SF Transit Maintenance & 6,097 SF Operations Building with the option for expansion, a Vehicle Wash facility, Fueling/Service facilities, POV, paratransit, and bus parking areas within a secure perimeter. The Maintenance Building is oriented on the site to accommodate future solar photo-voltaic panel placement.
The City of Las Cruces RoadRUNNER Transit Facilities' construction is funded by the Federal Transit Administration (FTA).
---
Albuquerque Public Schools' Dr. J Patrick Garcia Transportation & Education Complex

The Dr. J Patrick Garcia Transportation & Education Complex involved remodeling an existing two-story building to accommodate Bus Maintenance and Operations and serve as the main transportation hub for the APS District.
DWL was included in the redesign of the Operations side of the building and reconfiguration of the parking for a fleet of 350 school buses and 400 APS vehicles. The facility accommodates three distinct areas of work including administration, maintenance, and training. Coordination between traditional construction and integrated interior wall assemblies made for unique design and planning.
---
City of Albuquerque SWVM Facility @ Cerro Colorado
DWL|NM is proud to announce our latest project: a cutting-edge solid waste vehicle maintenance facility designed to meet the unique needs of the city of Albuquerque. This state-of-the-art facility features pull-through maintenance bays for efficient vehicle servicing, modern offices for administrative staff, comfortable restrooms, and a welcoming courtyard with a canopy, providing a refreshing outdoor space for employees. Additionally, the inclusion of a spacious break room and kitchenette ensures a comfortable and inviting environment for the hardworking team that keeps the city's waste management running smoothly. We are excited to contribute to the city's infrastructure and support the essential services that keep Albuquerque clean and efficient.
text
---
City of Albuquerque Daytona Transit Facility
8001 Daytona Rd NW, Albuquerque, NM
Southwest of I-40 & Unser stands our $42 million Daytona West Side Transit Facility, recently renamed the Ken Sanchez Transit Facility. Construction included a fuel island, bus wash, and parking area, and the $19 million 68,000-square-foot maintenance garage and office. The facility initially housed 140 buses, including hybrid-powered extended Rapid Rides.
"We wanted to provide the city with a very functional facility," said retired architect Ron Burton of DWL|NM. The maintenance building is illuminated with natural light and boasts a lift large enough for the 65-foot-long rapid transit buses. The garages are built with radiant heated floors— as is the rest of the building— to keep the mechanics warm in the winter, Burton said. City law required a 30% improvement in the amount of recycled water used to wash the buses compared to the transit center at Yale. A $17 million fourth phase includes a 96,000-square-foot canopy that can shelter up to 200 buses and a 15,000-square-foot operations center.