At DWL Architects & Planners, Inc. of New Mexico, our experience as a building designer in Albuquerque, Bernalillo County, Las Cruces, and Santa Fe, NM spans a broad scope of projects. Specifically, we embrace public works projects as a way to reinvest in our communities, with structures that are bold, beautiful and value-additive to the local area.
Our experience with commercial architecture spans educational projects, parks, and rec developments, public safety projects and municipal developments, among others. Let us show you the full potential of your public works project by pairing it with a design that embodies its true purpose.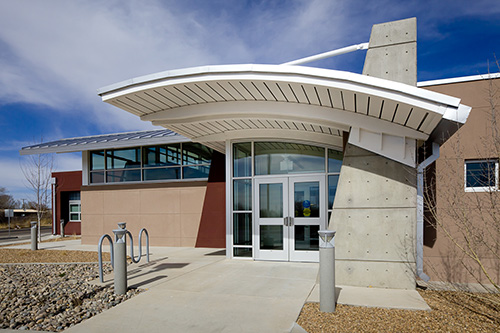 Las Cruces RoadRUNNER Transit M&O Facility
Master Plan and Design to 90% Construction Documents – Awaiting Funding for Completion
City of Las Cruces, RoadRUNNER Transit
Anticipated LEED Silver Certification
Project Description:
DWL•NM was commissioned to update a Site Master Plan developed previously by another firm. Facilities planned and designed as Phase 1 on the 24-acre site included a Transit Maintenance & Operations Building which could be expanded in future phases, a Vehicle Wash facility, a Fueling/Service facilities, POV, para-transit, and bus parking areas within a secure perimeter. The orientation of the Maintenance Building and planned future City Agency expansions are properly oriented on the site to also accommodate future solar photo-voltaic panel placement by the City of Las Cruces on site and on buildings.
The design team has completed 90% construction documents for the development of 13 acres of the 24-acre site. The City of Las Cruces is seeking Federal Transit Administration (FTA) construction funding. The project includes new utilities along a new service road for the City Complex, an 18,627 SF Bus Maintenance Facility, 6,097 SF Operations Building, Fueling Building & Canopy, a two-bay Wash Building and Electric Vehicle Charging Stations (EVCS) for their route buses charging overnight.
State of New Mexico
Taxation and Revenue Department
Motor Vehicle Division Field Office – Santa Fe
2546 Camino Entrada, Santa Fe, New Mexico
Project Description:
This 14,350 SF customer service/office facility is located west of Cerrillos Road and serves drivers for both POV and commercial, singular and fleet, vehicle titles and licenses. The customer service waiting area is an inviting open space flooded with natural daylight, served by staff from modularized work stations affording both privacy for transactions and visual observation. The lobby ceiling supports a prominent sculpture by Santa Fe artist Gino Miles'.
"This sculpture is an abstract representation of the earliest La Bajada Road incorporating the up and down hairpin turns of this famous stretch of old dirt road, which was the original Route 66 connecting Santa Fe and Albuquerque. The sculpture is also reminiscent of the everyday journey we all must make, whether it is a cross country trip or just a drive around the corner to buy groceries. This work synthesizes the past and the present of New Mexico, connecting all of its people to the culture that built this great state. (Funded by the Art in Public Places Program, New Mexico Arts, the NM Department of Cultural Affairs).
The office spaces incorporate both flexible private and open office furniture systems. Under floor mechanical, electrical and data allow for reconfiguration of workspaces and service connectivity. The design incorporated acoustic treatment to reduce noise reverberation within the public spaces. Site development included secure staff parking with security cameras and lighting. Customer parking is secured with camera observation and a commercial vehicle drive lane adjacent to the building allows for employees to visually inspect vehicles prior to issuing licenses.
City of Albuquerque, New Mexico
Daytona West Side Transit Facility
8001 Daytona Rd NW, Albuquerque, NM
Project Description:
The West Side's newest gated community showed off its state-of-the-art new buildings this week. But buses— not people— are calling this place home. Mayor Martin Chávez called the transit center opening "a historic moment" for the area west of the Rio Grande. "(West Side) Albuquerqueans are no longer orphans," he said during a grand opening of the $42 million Daytona West Side Transit Facility on Thursday. First planned 10 years ago, the structure has been little more than a mysterious patterned brick wall southwest of Interstate 40 and Unser for the last year and a half— tall enough from I-40 to hide the buses as well as any clue as to what the buildings were. Construction started two years ago, said Tim Cynova, the ABQ Ride engineering and facilities manager. It opened last year with a fuel island, bus wash and parking area, and recently added the $19 million 68,000-square-foot maintenance garage and office. The facility will initially house 140 buses, including the city's 12 new Rapid Rides, which are extended in length and are hybrid-powered. "We wanted to provide the city with a very functional facility," said architect Ron Burton of DWL Architects and Planners Inc. The maintenance building includes garages illuminated by natural light and separate bay areas for the smaller vans. The larger garage boasts a lift large enough for the 65-foot-long rapid transit buses, which have two connected parts and look like an accordion. The garages are built with radiant heat floors— as is the rest of the building— to keep the mechanics warm in the winter, Burton said. City law required a 30 percent improvement in the amount of recycled water used to wash the buses compared to the transit center on Yale, Burton said. A $17 million fourth phase will include a 96,000-square-foot canopy that can shelter up to 200 buses, and a 15,000-square-foot operations center. Currently, bus drivers operate out of a portable building next to the employee parking lot. The Yale facility in Southeast Albuquerque was built for 80 buses more than 30 years ago but has been housing more than 150 buses. Eventually, that location will become a satellite for the West Side facility. "It was way overcrowded," Cynova said. The city's compressed natural gas buses will remain at the Yale location, which has the necessary fuel stop for that fleet.
Additional Public Works Projects
Hidalgo County Historic Courthouse Energy Upgrades and Restorations
West Side Transit Facility Operations Office Building
Educational
We specialize in architectural design in Albuquerque, NM. We believe in creating environments conducive to learning and teaching, that are beneficial for students and teachers alike. We focus on designing comfortable, easy to maintain environments built on quality, natural light, technological opportunities, acoustics and more.
Our work on the Phase IA Multipurpose/Administration/Media Center building at RFK Charter High School was selected as the BEST K-12 Education Project for the ENR Southwest Region 2015 Best Projects. Other examples of our educational work include:
Robert F. Kennedy Charter High School
Master Plan & Phase IA
Albuquerque Public Schools
LEED Silver Certification
2015 Best Projects Award presented by ENR Southwest
Project Description:
Robert F. Kennedy Charter High School is located in the South Valley in a low socio-economic area. The school was an all-portable building campus. DWL•NM was commissioned by Albuquerque Public Schools to provide a master plan for a phased new permanent building education and joint-use community campus. The stated goal for the campus was to create facilities and programs that enhanced the high school educational curriculum and provide opportunities for community focus and interaction. The facility features abundant natural daylight and acts as a community center and to engage with parents, students, and community.
The first phase is a multipurpose facility that includes: a gymnasium with volleyball/basketball and roll-out bleachers and a performance stage with sound/lighting capabilities. The building serves a low wattage radio broadcast programming, computer/media center, snack bar, administrative offices, physical fitness facilities, public restrooms, and student lockers/restrooms. Protective lay-down mats for the gym wood floor accommodate special community and school social activities and rolling acoustic panel partitions allow for subdividing the large gym for special art/music and communities activities. A new exterior playing field and community-based demonstration garden are fed by roof drainage collection system.
Madison Middle School
Campus Master Plan, Site ADA Upgrades,
Gymnasiums Renovation & Addition
Albuquerque Public Schools
Project Description:
Madison Middle School main Gymnasium, 14,454 SF, was constructed in 1958 several additions had expanded both locker rooms and the lobby in years past. The restrooms/showers had undergone a complete gut and renovation recently within the heart of the gym building leaving the balance of the building reflecting its sixty plus years of hard use. The adjoining Mini-Gym and Library, 9,784 SF, were constructed in 1976 and each of these spaces similarly reflected the wear and tear of thirty years of use by middle school students and community users. This project was to focus the renovation of each building on replacing the HVAC systems in all spaces and renovate the interiors of the two gymnasiums, the boys and girls locker rooms, teacher offices, the gym lobby and storage spaces and add a fire protection system. An addition to the main gym added much-needed storage and provided a location for a new roof mounted Air Handling Unit to serve the gymnasium space.
Susie Rayos Marmon Elementary School
Master Plan & Phase I, II & III
Albuquerque Public Schools
LEED Silver Certification
Project Description:
Susie Rayos Marmon Elementary School was an all-portable building campus with one permanent mini-gym building. DWL•NM prepared a master plan for the phased replacement of portable buildings with a new permanent building education campus incorporating joint-use capabilities by the community. The stated goal by APS, community leaders, school administrators and teacher input for the campus was to create facilities and support programs to serve Pre-K through 6-grade students for year-around education within an 84,000 SF school with 42 classrooms. Building planning provided opportunities for community focus and interaction, as well as educational activities. The facility features abundant natural daylight and acts as a joint-use community center/school and to positively engage with parents, students, and community members.
Building planning provided opportunities for the community to access and use the school's library, cafeteria/dining, gymnasium, and computer labs without having access to classrooms. The landscaped courtyard dining and playing areas are defined with the surrounding permanent building edges affording each school grade level access. Continual interaction and belief in the design concepts by community leaders and facility committee members were instrumental in receiving funding for all phases of the project.
NM Museum of Natural History & Science – STEM Education Wing Addition & Renovations
New Mexico Department of Cultural Affairs
1801 Mountain Rd NW, Albuquerque NM
Project Description:
The NM Museum of Natural History & Science mission is to exhibit and educate the public about Natural History and Science and how it has affected and continues to impact our lives. The Education Department has been conducting pre-school through adult continuing education programming for 30,000 + users each year within a multi-purpose room or other un-programmed spaces within the museum.
The DWL•NM team collaborated with all Museum departments to program and design the renovation of existing exhibit preparation shops and Bio-Sciences Collection spaces to accommodate the education department goals. A small building addition was used to define a separate and distinct museum entry for school groups arriving by bus and for evening events using the new Lecture Hall. The renovation and addition included 12,300 square feet on the ground floor including the new north side entry to the Museum Education Center. The project construction was phased due to construction funding availability.
The first phase included upgrading existing mechanical and electrical systems, conversion of the existing shop spaces into shell space for future, one student lab classroom, restrooms, and the building addition shell space for future Lobby/Entrance.
The second phase included development of the new entrance lobby and reception area, a Multipurpose/Lecture space with retractable seating for 90, education staff workroom, docent/volunteer research space, two lab classrooms and renovations of the museum exhibit staging/loading dock area, site development work, landscaping and signage for the new accessible entrance into the STEM Education wing. The new Multipurpose/Lecture space is also used by New Mexico Highlands University for interactive lectures and distance learning education.
Museum of International Folk Art – Additions/Renovations
John Gaw Meem Building/Historic Overlay Zone
New Mexico Department of Cultural Affairs
706 Camino Lejo, Museum Hill, Santa Fe, New Mexico
Project Description:
DWL•NM has been successful in meeting the functional needs of the new Neutrogena Wing Addition on Museum Hill and various functional component remodels. Respecting the Santa Fe Historic Overlay Zone and the architecture of the John Gaw Meem original 1958 building was critical and successfully met a donor, Lloyd Cotsen collection requirements for this State of New Mexico project.
Numerous Projects at MOIFA:
Neutrogena Wing Additions and Renovations
Including: Main Atrium, new Public Restrooms, Main Gallery, public elevator for access to Lloyd's Treasure Chest at the basement level where visitors could view collection items not on display or being staged for exhibit
Girard Wing Renovations and Energy Upgrades
Hispanic Heritage Wing Renovations
J. Monroe Thorington Basement Renovations for Collection Receiving, Documenting, Storage and Staging
Additional Education Projects
Arroyo del Oso Elementary School Kindergarten Addition & Kitchen Remodel
Grant Middle School Science Classroom Addition & Gymnasium/Kitchen Improvements -2012 LEED for Schools Gold Certification
Hoover Middle School Kitchen Addition & Building Upgrades
Moriarty Elementary School Phase I and II
Sandia Base Elementary School Kitchen Addition & Cafeteria Renovation
South Valley Central New Mexico (CNM) Community College Campus
Ken Chappy Hall Remodels and Mechanical Building Addition
Alamosa Elementary School
Kitchen Improvements
Albuquerque Public Schools – APS Food & Nutrition Services
Project Description:
Alamosa Elementary School kitchen and cafeteria was originally constructed in 1958. The school has an average enrollment of 450 students a year, serving 415 students for breakfast and 380 students for lunch. The existing kitchen was undersized, but utilized very well to meet the needs of serving lunch within 15 minute intervals for six lunch bells. The existing kitchen lacked dry storage space and a walk-in-freezer. The deficiency of space in the kitchen was in part due to multiple stand up freezers/coolers within the kitchen, as well as in the cafeteria. The existing serving line posed accessibility issues for students, allowing them minimal circulation space to receive their meal and exit the kitchen/serving line. DWL was contracted though its on-call contract with APS to provide, a new walk-in cooler and freezer within the existing kitchen, a new serving line at the wall common with the cafeteria and create new dry storage in an existing storage room attached to the cafeteria. This project was funded directly by APS Food and Nutrition and co-managed by APS Facilities, Design and Construction. The project was constructed by Weil Construction as an on-call contractor through APS.
The project rejuvenated the existing kitchen into a space that is better utilized, providing the kitchen staff improved circulation and working space, better lighting, new ceiling, polished concrete floor, updated kitchen equipment, new combo walk-in cooler/freezer, and adequate dry storage. A new serving line with a large roll-up door and stainless steel counter for the students to be served without entering and exiting the kitchen was provided. The renovations to the existing large storage room attached to the cafeteria established a new shared storage and secure dry storage rooms for kitchen operations. The storage space renovations included re-roofing and insulating its original building envelope, as well as new ceiling and lighting systems.
Staff member comments:
"Kids are very happy that they are having hot meals again!" (Alamosa ES – 4th Grade Teacher)
"I love it! It is great! I am excited to have parents see the new kitchen during our upcoming holiday meal!" (Alamosa ES – Re-director)
"It is beautiful, modern and has clean looks!" (Alamosa ES – Secretary)
"The cafeteria has caught up to modern times – the 60ies look is gone – clean and welcoming, a professional look!" (Alamosa ES – Principal)
Student comments:
"I love it"
"I love that we have hot food again"
"It is very pretty"
"It looks so shiny"
"I love the sign: Alamosa Cafe"
"It feels like a real restaurant!"
Good morning,
Everyone at Alamosa is so exited for the new cafeteria. Students are so greatfull for the food and that their cafeteria is pretty. The only issue we have is that the serving line is so hi for students to reach for their food, it's hard for them to see what it is on the food trays and the cold line as well. We wish the line was adjustable like George I Sanchez.  Thank you for the new kitchen at Alamosa.
Thank you.
"Great things in business are never done by one person." -Steve Jobs.
Reyna Méndez
Area Manager
(505)252-2285
[email protected]
Parks and Recreation
Parks and recreation projects are the pinnacles of our focus on creating purposeful spaces that harness natural elements. We've worked on a number of projects currently enjoyed by local-area residents today and take pride in producing designs and environments that serve our community population.
Expo New Mexico, Villa Hispana
Phase I Village Upgrades and Phase II Stage Addition
Albuquerque, New Mexico
Project Description:
The original Villa Hispana at Expo New Mexico had become outdated and unattractive to the public during the annual state fair and during the rest of the calendar year. DWL•NM was commissioned to master plan and create a vibrant image and renewed functionality for the village. DWL•NM designed and oversaw construction of the various phases of the village including upgrades to utility infrastructure, addition of a dining pavilion, food vendor additions and upgrades, a performance stage and shaded seating area with support offices, public and performer restrooms, and performance lighting/sound capabilities. A new entrance gateway and renovations to the courtyard circulation paths and drought tolerant irrigated landscaping have with the performance venue and improved vendor support and visitor dining areas enlivened Villa Hispana and increased its use year around.
Public Safety
For public safety projects, our experience spans fire stations, medical centers, law enforcement projects and more. We understand the unique demands of public safety projects and work hard to adapt designs that fulfill those demands while projecting an appearance and atmosphere that's comfortable and welcoming to all.
Placitas Fire Station
Sequoyah Adolescent Treatment Center
Joint Use Police/Sheriff Law Enforcement Center
John Paul Taylor Multipurpose Addition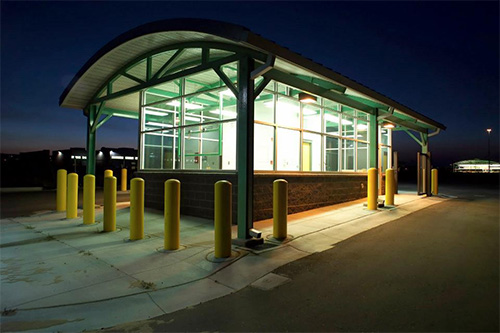 Plan Your Public Works Project
Preparing for a public works project? When the time comes to consult on design, choose DWL Architects & Planners, Inc. of New Mexico.
Let us put our extensive experience to work for you, creating environments that exceed the expectations of everyone who will enjoy them.