With a long history of experience designing commercial architecture in Albuquerque, Bernalillo County, Las Cruces, and Santa Fe, NM, DWL Architects & Planners, Inc. of New Mexico welcomes your commercial or public works project. We design spaces for a broad range of business types and always work with our clients to make the process collaborative.
Regardless of the size of your building, its purpose or the occupancy needs you may have, our commercial architects are ready to exemplify design to meet your expectations. Using natural elements, beautiful materials and a focus on balance, we promise a commercial space that's inclusive of your expectations and illustrative of your style.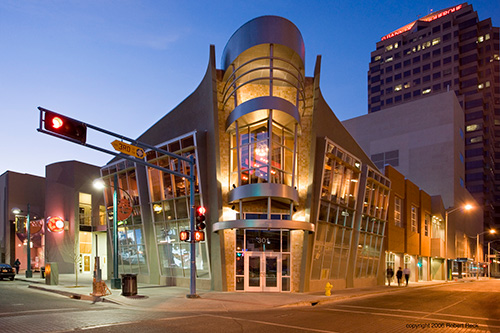 Offices
Our commercial architects in Albuquerque, NM have worked with a broad range of local businesses to develop office environments that make optimal use of space, while creating an environment employees feel comfortable and motivated in. From law offices to accounting firms, call centers to company headquarters, our breadth of abilities will match your project style.
Russ Whitener Law Office Building
4110 Cutler Ave NE, Albuquerque, New Mexico
Project Description:
DWL•NM was commissioned by Russ Whitener to design an iconic Office Building along 1-40 that would make a "statement" and be recognized from the interstate so that it could be incorporated into his business marketing campaigns.
The design responded to the owner's desire to present a strong visual impact to east and westbound traffic on Interstate 40. A strong color palette and prominent geometrical forms, similar to the vibrant colors and shapes, seen on many buildings in Mexico have helped to meet his stated goals. The design features abundant natural lighting within a two-story atrium lobby with space for common dining and a large palm tree planter. Private offices have windows to view the interstate traffic and open-offices have borrow-light and overhead diffuse lens skylights. The public and clients that see and use the building definitely agree that it has the "wow" factor that the owner stipulated from the beginning of design.
This multi-story private office building succeeded in providing energy efficient, flexible private and open office facilities. Assessment of current and projected office needs set the programming for the new building and its flexibility for leasing. Site development planning, assistance with marketing graphics for leasing purposes, zoning reviews, interior design, and 3-D architectural renderings and furniture system selections were all inherent components of conveying the design intent to the Owner and in making it a successful project.
Additional Office Projects
Collin McMillan Office Building
New Mexico Game & Fish Headquarter Office Building
Rio Rancho Estates office
Commercial
For customer-facing commercial spaces like restaurants, breweries, community centers and more, our focus on building purpose gives us the ability to meet the expectations of your project. Our work can be seen in numerous local-area projects that stand tall today, providing environments that are welcoming, exciting and appealing to all who use them.
Third and Central Commercial Building
301 Central Ave, Albuquerque, New Mexico
Project Description:
The One-Up Restaurant and Bar were the initial tenants in the Third & Central redevelopment project. The concept envisioned diners setting near the large windows that overlooked one of Albuquerque downtowns' main street intersections and the street scene below. This downtown dining and entertainment venue were focused on an upscale, sophisticated atmosphere that was a departure from the early redevelopment projects in downtown Albuquerque which primarily included bars that catered to younger crowds. The redevelopment of these buildings has provided an alternative to some of the other commercial lease spaces available within the Albuquerque downtown area.
Additional Commercial Projects
One-Up Restaurant and Bar
El Privado
600 Central
Socorro Springs Restaurant & Brewery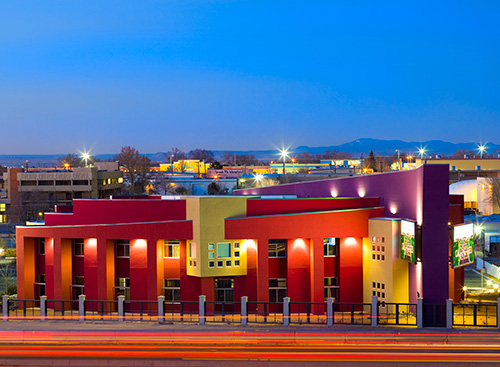 Design Ideal Commercial Architecture
Whether you're constructing a new office environment or want to enhance the functional appeal of your other commercial space, we welcome your project. Contact DWL Architects & Planners, Inc. of New Mexico today by calling 505-242-6202.
Our commercial architects are excited to collaborate with you on your upcoming commercial development.